Drive. Physicality. Team player.
If you ask any of Payton Weehler's Mount Ayr coaches, they will all mention one or all of the above in regard to how he is as an athlete on and off the varying surfaces of play.
Those adjectives have landed Weehler the 2021 South Central Iowa Male Athlete of the Year, an award presented annually by the Creston News Advertiser and Osceola Sentinel-Tribune.
Other finalists for the male award include Tallen Myers of Southwest Valley, Dalton Stubbe of Clarke, Toby Bowers of Nodaway Valley, Trae Ehlen and Erik Trujillo of Mount Ayr and Brance Baker of Creston.
Weehler's four-year standout career in football, basketball and track have made him the cream of a very elite crop.
"It really surprises me," Weehler said about winning the award. "The area is full of athletes to be chosen means a lot, it's a really nice feeling."
Weehler, currently a walk-on for the Nebraska Cornhuskers will be living out his "childhood dream of playing D1 football."
The 6-foot-3, 185-pound Weehler's favorite memory came last season.
"Winning the district in football my senior year, I was ball boy the last time they won district in football," Weehler shared.
His football coach, Derek Lambert, shares about Weehler's drive.
"He's one of the young men with a tremendous drive," Lambert said. "Not only a drive for football but just a drive to get better as an athlete, he always thought there was room for improvement. He never sat idle, he was always wanting in the weight room for extra time, not just the time he was required to be in there."
Payton was also a stand out guard for the Mount Ayr, leading the Raiders in 3-point baskets made three out of four years. Weehler shot just under 40% on shots from deep.
"Payton, as an eighth grader was far more physical than any eighth grader we've ever had," Mount Ayr head basketball coach Bret Ruggles said.
Day two of practice with high schoolers as an eighth grader was a memorable one for coach Ruggles.
"He elbowed our sophomore guard Luke Wurster to the point where his nose just exploded, after that day the mentality in our basketball program completely changed into this aggressive, physical, very passionate style," Ruggles shares of the team mentality script flipping. "That was Payton. That is everything of Payton Weehler. He wanted to win as much or more than I did, and you don't say about a lot of kids."
Weehler, a "versatile performer" as his Cornhusker bio describes him, was also a standout member of Mount Ayr's relay teams. In 2019, Weehler was runner-up at the Pride of Iowa conference meet with the 4x400 team and part of a fourth place finishing 4x200 team.
"One of the best team players I've had in a decade of coaching," head track and field coach Brad Elliott said.
A perfect example of Weehler being a team player involves trying to get a relay team beyond the district qualifying meet.
"His senior year we had an athlete, Erik Trujillo come up sick the night before the meet, he was a member of our 4x4 which was probably our best relay," Elliott said. "Payton Weehler talked about going into that meet and Payton was concerned about getting the relay qualified so that Erik would have a spot to run."
Weehler's best times in the 200 meter dash, 400 meter dash and 800 meter dash are 23.90 seconds, 52.92 seconds and 2:09.69, respectively.
"If blue collar was a word that's overused, this kid just put in the work from middle school all the way up into his senior year," Coach Elliott says on how best to describe Weehler. "You can always count on him being there and you an always count on him dragging someone in with him."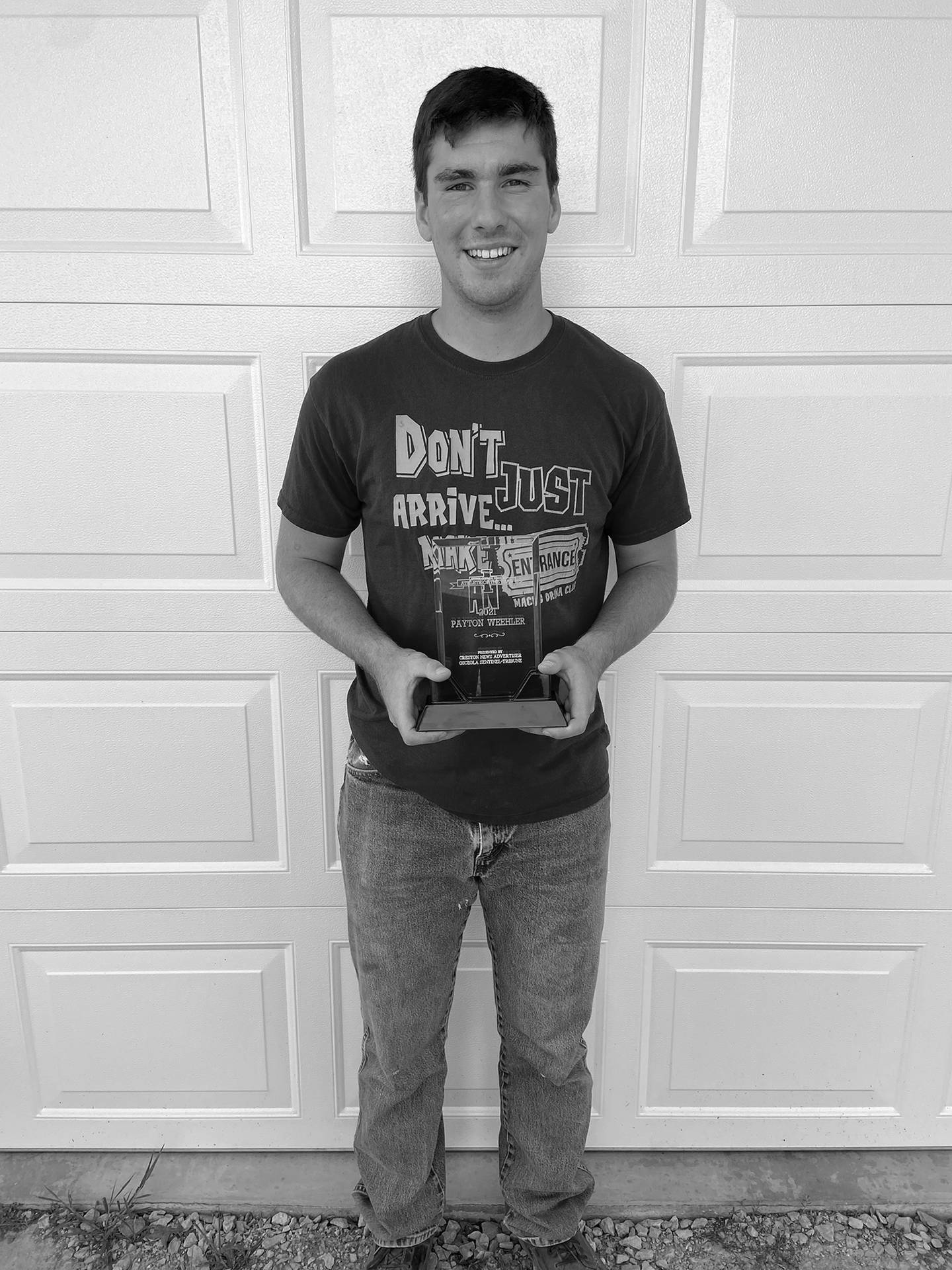 Below photos Contributed photos by Chanse Hall/Mount Ayr-Record News)