FORT DODGE — A proud tradition of Clarke softball continued at the state tournament last week, as the Lady Indians captured a 4-2 victory over Anamosa in consolation play July 20 after a first-round loss to Class 3A state champion Davenport Assumption.
In the school's five trips to the state softball tournament in Fort Dodge, Clarke has won at least one game each time. In the process, Clarke seniors Kiaya Dunbar, Kaitlyn Halsband, Emma Bolton, Nicole Barnard and Dylan Lundquist were able to conclude their careers with a victory.
"We talked about wiping the slate clean after playing Davenport Assumption," coach Vanessa Bakley said. "We said we're still at the state tournament. They regrouped and played their game. It was great to end on a win. Not many players get to do that."
Anamosa, seeded fifth, was coming off a 10-9 loss to Atlantic in 11 innings late Monday night, after Clarke's quarterfinal loss to Assumption. Eighth-seeded Clarke struck first with a run in the opening inning. Anamosa was able to come back and tie the game twice at 1-1 and 2-2, but the Lady Indians secured the victory with single runs in the fourth and sixth innings.
Bolton finished strong in the circle, pitching four straight shutout innings after the Blue Raiders' final run crossed in the third. Bolton allowed five hits with seven strikeouts and no walks.
"Emma definitely settled in and got in a groove," Bakley said. "She was working outside and coming up and in. She had a good rise ball working."
Offense clicks
The Clarke offense, meanwhile, outhit Anamosa 8-5 including a 3-for-4 game by shortstop Tory Henry with two RBIs and a run scored. Halsband drove in the first run after Tory Henry doubled and Dunbar singled.
In the second inning Nicole Barnard walked and Shayla Hembry singled. Marissa Bakley's ground ball advanced the runners before one run crossed on Tory Henry's fielder's choice.
After Anamosa tied it at 2-2 in the third, Clarke came back with single runs in the fourth and sixth for the final 4-2 margin. Ali Henry and Tory Henry started the fourth inning with singles. Dunbar reached on a fielder's choice after laying down a bunt, with Ali Henry scoring on the play.
The "small ball" game was on point, with bunting and running putting pressure on the Blue Devils' defense.
"We had the squeeze by Dunbar, and the Henry girls at the top of the lineup put a lot of pressure on the defense with their quickness," Bakley said. "The other team has to field the ball cleanly to have a chance of getting them out, and once they get on they put pressure on the defense with their baserunning."
Bakley got on base in the Clarke sixth after a dropped third strike, and moved to second on a ground ball by Ali Henry. Tory Henry singled to right field to drive in Bakley.
"I thought we represented the conference and the community well," said Bakley, whose team upset fellow South Central Conference teams Albia (ranked fifth) and ninth-ranked Eddyville-Blakesburg-Fremont in regional competition. The Lady Indians, finishing 18-12 overall, placed fifth in the South Central Conference at 5-7.
Interested spectators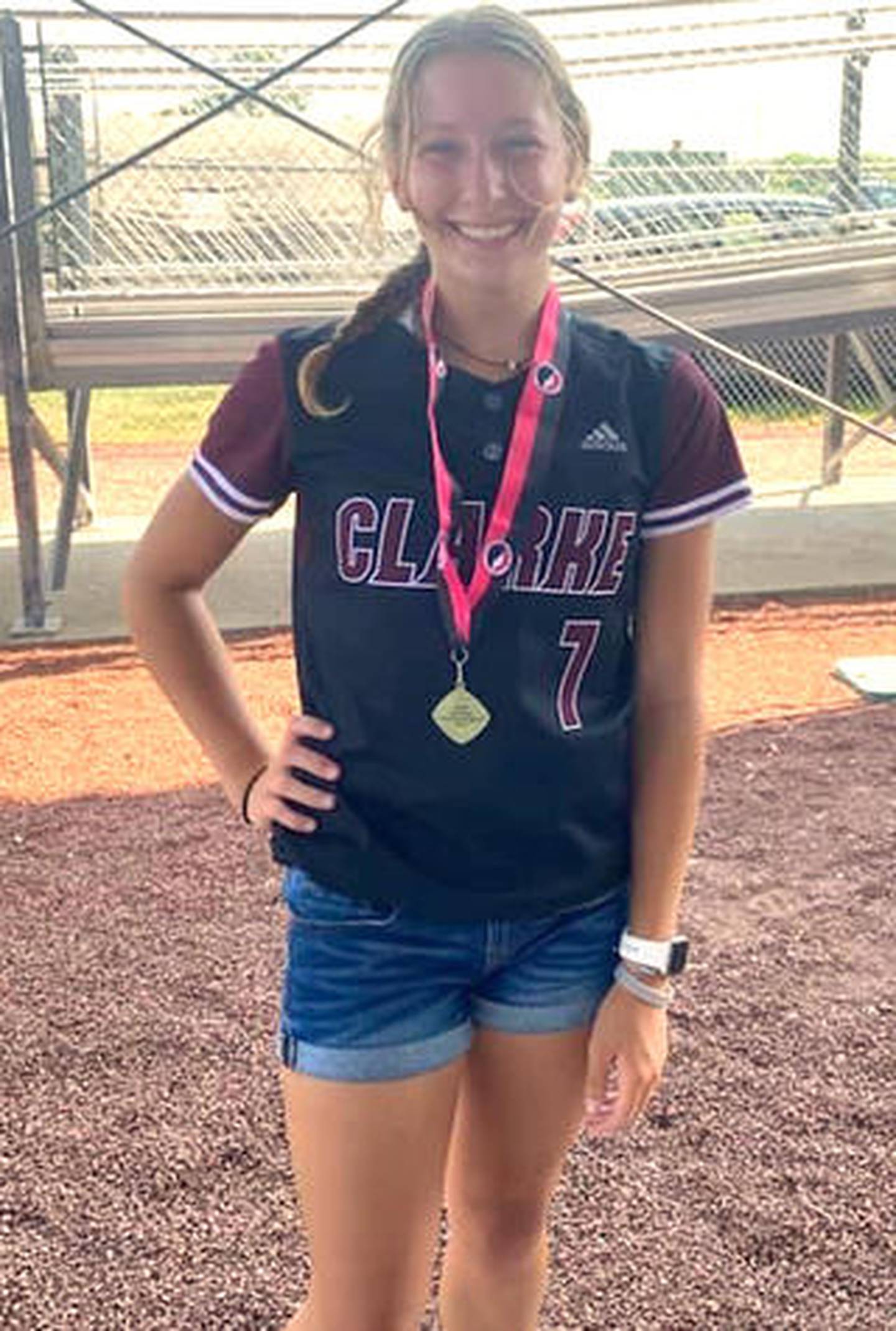 The Lady Indians stayed at the tournament Wednesday to watch semifinal and consolation games, and returned on Friday for championship competition in 3A, 4A and 5A. Tory Henry was introduced as a member of the all-tournament team after Assumption rallied to beat Mount Vernon, 10-5, for the 3A title.
"It was big for the girls to be up there and feel that environment, especially to see teams playing for a championship," said Bakley, a member of Clarke's state championship team in 2014 along with assistant coach Alex Boyce, after Clarke lost in the 2013 finals. "Now they know what they are working for. We hadn't been to state in six years. It's huge to get those kids there and feel that experience. It makes them hungry for more
"We will miss our seniors," Bakley added. "They were such a big part of our success. We've always talked about 'next one in.' We're hoping we don't skip a beat. We'll be practicing hard and getting experience as a new team. We had some growing pains at the beginning of this season and finished strong. I'm excited about our future."
The All-South Central Conference team was also announced late last week. Named to the first team were Emma Bolton and Tory Henry. Making the second team were Ali Henry and Kiaya Dunbar. Earning honorable mention were Nicole Barnard, Shayla Hembry and Alivia Bakley.