FORT DODGE — Top-ranked Davenport Assumption Catholic lived up to its billing in an 11-1 victory over Osceola Clarke Monday night in the Class 3A quarterfinals of the State Softball Tournament at Harlan Rogers Sports Complex.
Assumption advanced to the semifinals Wednesday against Hawkeye Ten Conference champion Atlantic, an extra-inning winner over Anamosa Monday night. Clarke was scheduled to take on Anamosa Tuesday afternoon in consolation play.
Assumption has a rich history at the state tournament, The Knights were upset in the semifinals of the 2020 state tournament by Williamsburg, but have played in four of the last five state championship games, including three consecutive titles starting in 2017. This is their sixth straight trip to Fort Dodge.
"We knew they were going to be good," said Clarke coach Vanessa Bakley, who played three years at the state tournament for Clarke and coach Lindsay Diehl, including the 2014 state championship team. "When we first started preparing for Fort Dodge I told the girls everybody is going to be good up there. It doesn't matter. We have to focus on us, and the things that we do. We got away from that a couple of times in this game when the pressure kind of built up. But, I told them there are only eight teams here in 3A. Losing this game doesn't mean you're bad."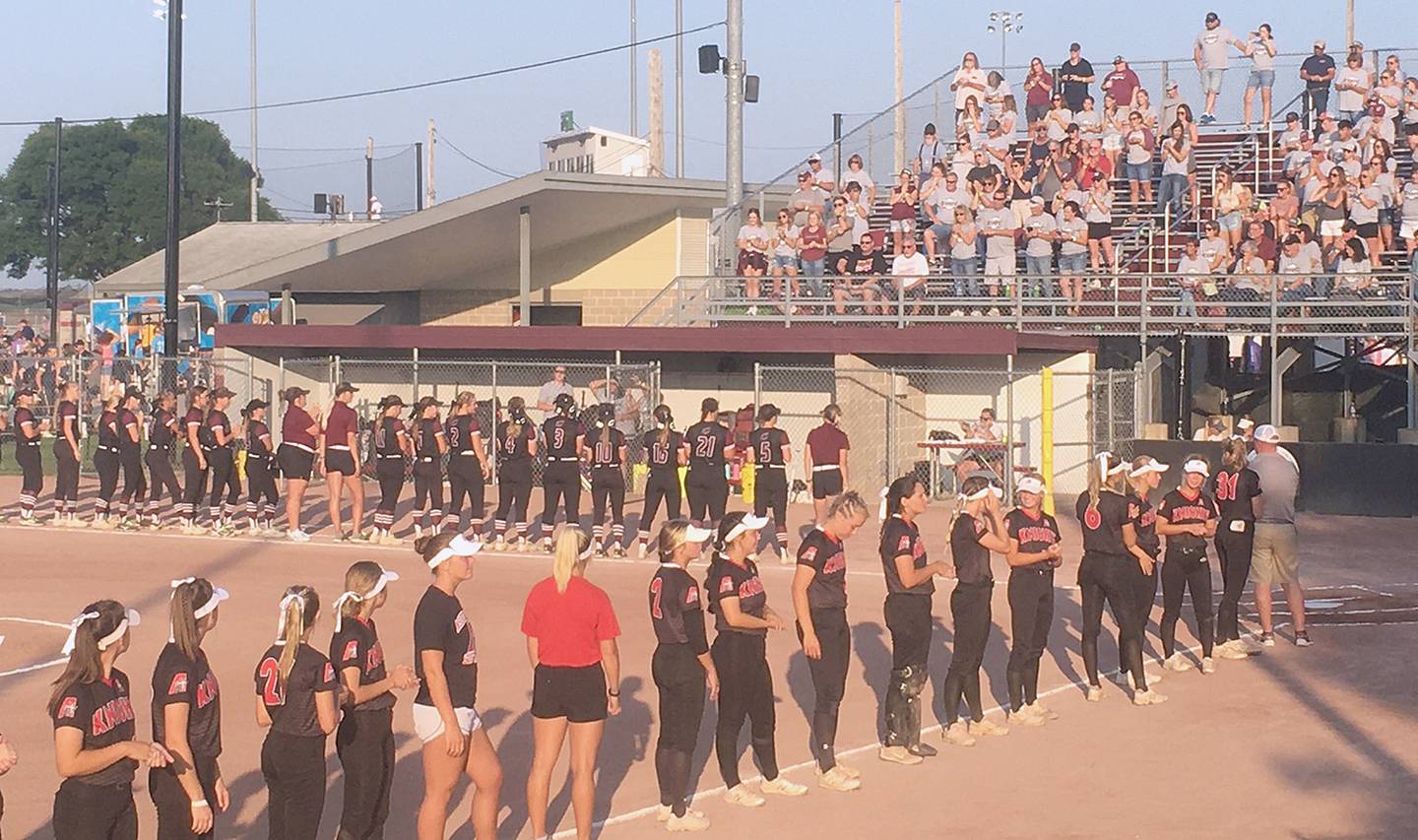 Tory Henry slapped an opposite field single for the Lady Indians in the first inning but was left on base, and the Knights struck immediately in th bottom of the first with three runs on two hits and one Clarke error.
Assumption Catholic extended its lead to 8-1 in the third inning on five runs and five hits, including a two-run homer by catcher Syd Roe after DePaul recruit Anna Wohlers was intentionally walked.
The margin was 10-1 in the fifth when Ferrill inserted backup pitcher Leah Maro into the circle. Clarke got two runners on base as Shayla Hembry drew a walk and Ali Henry slapped a single. Maro got out of the situation with a flyout to left.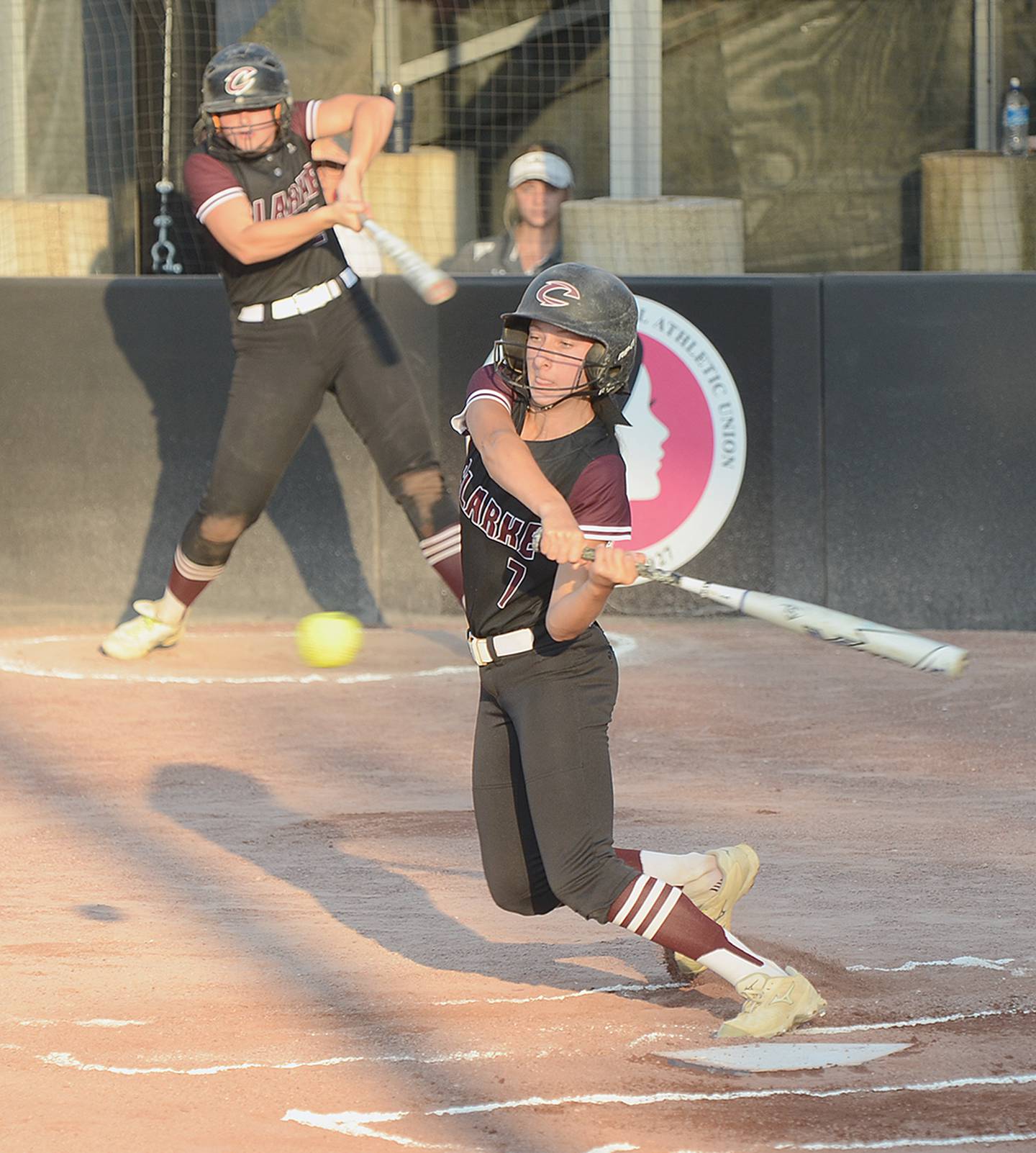 The Knights got the clinching run for the 11-1 mercy rule victory in the sixth on Catherine Roe's single to center with Libby Madden on second base.
Clarke pitcher Emma Bolton yielded nine earned runs on nine hits with one strikeout and three walks. Assumption Catholic starter Bella Nigey gave up two hits, one run and one walk with five strikeouts in four innings.
The top of the order had all three of Clarke's hits from Ali Henry, Tory Henry and Kiaya Dunbar. Dunbar got the RBI in the third inning, scoring pinch runner Bailey Buckingham after Hembry was hit by a pitch.
"We knew they were dangerous with their speed at the top of the order," Ferrill said. "I had our all-state catcher at third base tonight to help neutralize their slappers. She also plays some corner infield for us. We were able to neutralize their power tonight. Their 3-4-5 hitters scared us al ittle bit. The heart of their order was very capable. Both of our pitchers did a good job tonight."
Bakley, meanwhile, told the Lady Indians afterward to focus on the task ahead on Tuesday against Anamosa, which was coming off an 11-inning loss that exceeded three hours late Monday night.
"I told them we now we don't get to win a state championship, but so what?" Bakley said. "Now we get a chance to work for something else. We want to enjoy our time up here, because it's a huge accomplishment just to be up here. I'm so proud of them."