This week, the House Health and Human Services Budget Subcommittee heard a presentation from the Iowa Department of Health and Human Services on child care. The below chart shows the expansion of over 24,000 slots since September 2021.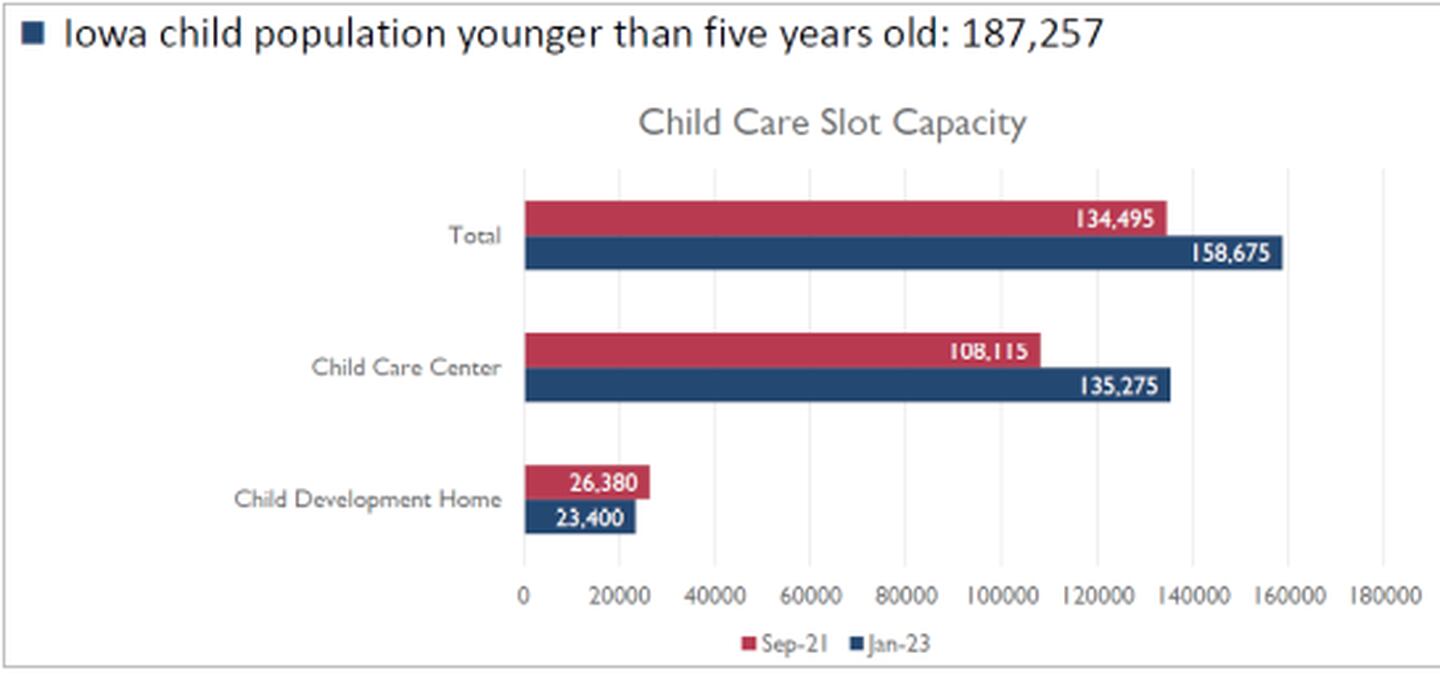 Additionally, this week, a subcommittee advanced House Study Bill 50, to create a two-year pilot program to make child care workers eligible for child care assistance for their own children. Child care facilities discuss the significant problems finding child care staff, and this bill will help recruit and retain parents to the profession.
Over the last two years, the House has prioritized expanding access and lowering the cost of child care throughout the state. Below is an expansive list of the bills signed by the Governor during the last general assembly.
Child Care Off-Ramp (HF302) – established a state funded off-ramp program from Child Care Assistance that will gradually increase cost-sharing from families as they increase their income.
Child Care Ratios (HF2198) – opens additional child care slots by establishing new minimum child-to-staff ratios in child care centers of 1:7 for children aged 2 and 1:10 for children aged 3
Child Care Tax Credit (SF619) – doubled the income eligibility for Iowans receiving the child dependent and development tax credit
CCA rates (HF891) provided a $13.4 million increase by moving all CCA providers below 50% of the market rate survey up to that level
Child care homes (HF260) – Allows individuals providing child care in their homes to remain nonregistered with DHS if they increase from 5 or fewer children to a 6th child that is school-aged
Additional workforce (HF2198) – allows child care center employees who are 16 years of age or older to work without additional supervision
Employer incentives (HF2564) - tax credit to assist businesses with expanding child care options for their employees
HF2127 incentivizes child care providers to accept more Child Care Assistance (CCA) families by allowing parents to pay the difference between CCA rates and rates charged to private pay families
HF 2252 – allows a parent with a permanent disability to access CCA so the other parent can pursue employment
SF 2385 – allows chiropractors, podiatrists, and optometrists to perform physicals for children in child care and personnel that work in child care facilities
Forum Schedule
Senator Sinclair and Representative Fry will once again be hosting Legislative Forums in the District during the 2023 Legislative Session.
The first day of forums will be:
February 24, 2023
8:00 am - Corydon, IA at the Corydon Farm Bureau
10:00 am - Chariton, IA at the Chariton Farm Bureau
12:00 pm - Osceola, IA at the Lakeside Casino
2:00 pm - Leon, IA at the Leon Community Center
Rep. Joel Fry
House District 27
515.281.3221